Commenting PDF Files
Comments are used to review text or suggest possible changes in PDF document. They aren't editing tools since their usage doesn't alter source file content. Master PDF Editor allows to move, change and remove comments. If document is password protected, you cannot create and edit comments without entering password.
Adding Comments to Document
Comment tools are available when Hand Tool is active. Master PDF Editor uses following comment tools:
| Button | Function | Description |
| --- | --- | --- |
| | Add Sticky Note | Note can be located in any place of the document, where you want to leave your remarks. Note's title includes PC name. Title can be edited. |
| | Text Highlight | Selected text is displayed on colored background. Allows to mark important places in the text. |
| | Text Strikethrough | Selected text is strikethrough. Usually this type of comments indicates requirement to remove text. |
| | Text Underline | Selected text is underlined. Attracts additional attention to the text. |
You can add the comment by choosing required tool in the Comments menu or by pressing corresponding buttons on the toolbar.
To add note to the document choose Comments > Add Note in the menu or press

on the toolbar. Left click a location in the document where you want to place note. Insert note text in a pop up window. When clicking the cross icon note will be minimized and will remain on the page as icon.
To view and edit note's text, double left click its icon.
To highlight, underline or striketrhough a text, choose required tool in the Comments menu or on the toolbar and select required text wit it. Comment tool will be active until Esc key is pressed or another tool chosen.
Previously selected text may also be highlighted, underlined or stricken through. (If you need to select a lot of text, Select Text

tool is useful. Right click selected text and choose one of the comment types in the context menu.
If required, a description can be added earlier highlighted, underlined or stricken through text. To do it, double click selected text with left mouse button. This will open a commenting window, where you can leave your remarks.
Modifying Comments
To edit comments, select Edit Document

or Edit Forms

tool. These tools allow to change position of note icon by dragging it with mouse, change its size, set notes icons and parameters.
To change note icon size, select it with Edit Document tool and drag its box edges with mouse.
To align comment notes choose required item in menu Edit > Align Objects: align by left edge, right edge, top and down. You can also use one of the tools on the Toolbar (

Align Left,

Align Right,

Align Top,

Align Bottom).
You can change comments settings (type, color, opacity etc.) in Object Inspector. You can open Object Inspector window by clicking its tab in the right part of the application workspace. When editing a comment only two tabs are available in the Object Inspector: Geometry and Options.

If you choose Options item in the opened note, then only Options tab will be available in Object Inspector.
Geometry tab
Options in Geometry tab are set likewise for any other objects. See detailed description at Geometry tab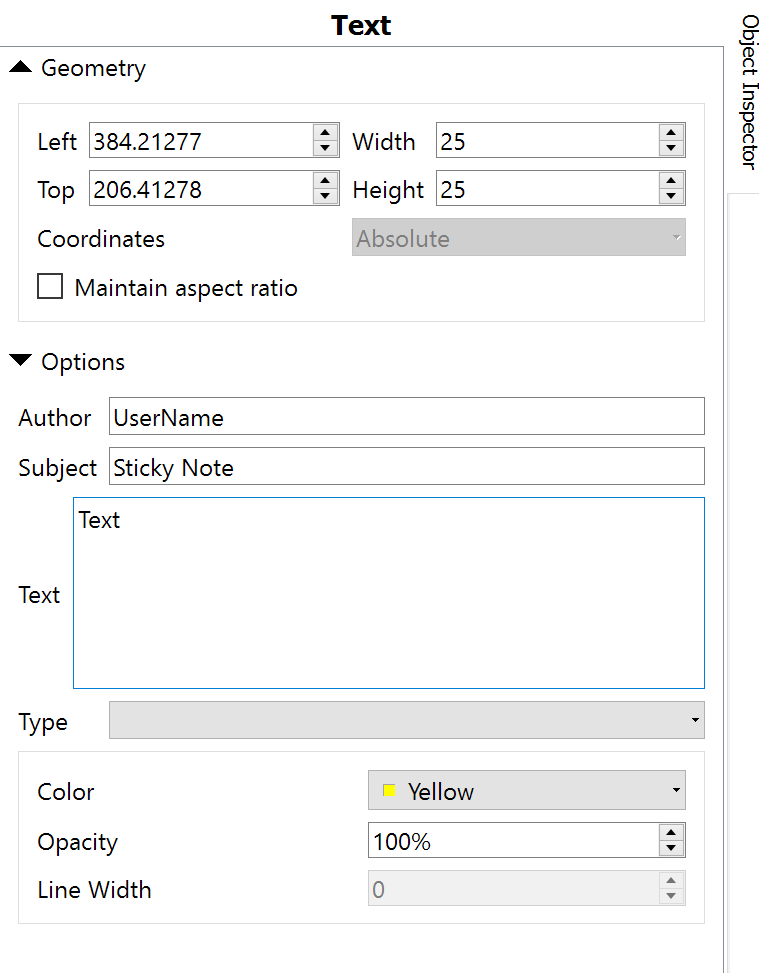 Options tab.
Author — user name, filled automatically. Name can be changed in application's Settings on Comments tab.
Subject — comment name.
Text — comment text.
Type — allows to choose comment's icon appearance. It can be circle, cross, check mark etc. Available only for sticky note.
Color — comment color setting.
Opacity — comment opacity setting.
Line width — line width setting. Available only for underlined and strike through text.
Export and Import Comments Data
Export of comments data allows to reduce size of transferred data. This function copies comments and records to separate FDF file.
To export comments, choose Comments > Export Comments Data… in menu. This will pop up a Save As… window, where you can change comments file name and save it. By default, name of comments data file looks like this: (source document name)_comments.fdf.
Example: Мy document_comments.fdf
When importing comments data, previously exported and saved to FDF file comments data are added to PDF document.
To import comments to the document choose Comments > Import Comments Data… in menu. Choose comments data file in pop up window and press Open button.
Location and content of the comments will be identical to file they were exported from.
If you email a file with comments as full PDF document, all the comments will be displayed when receiver opens the file. You can also send comments as email attachment.

Comments aren't displayed when printing the document.
Read more about Master PDF Editor