Deleting and Moving Pages
With Master PDF Editor you can remove or move one or multiple pages. To delete page(s) open Pages tab of Navigation Area. Right click a thumbnail and choose Delte Pages item in the context menu. This will open a Delete Pages dialog window. You can also open it with Alt+Del, or Alt+Fn+Del in Mac.
Pages — emable if required to delete several pages. List pages to delete separated with commas, or pages range. Press Ok to delete pages.
Current page — enabled by default. Click Ok if you need to remove only current page.
Pages From — To — enable to set specific pages range for removal.

Please note, that Delete Pages command can't be undone. Removed pages can't be restored.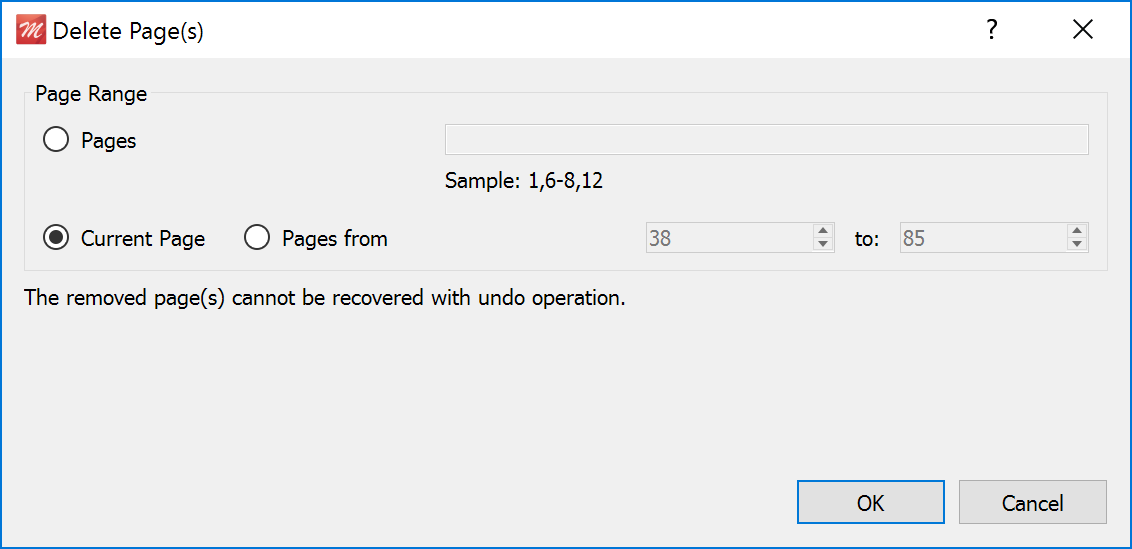 After selecting right click a thumbnail and choose Delete Pages item in context menu. Then you'll see a pop up window with deletion properties. If multiple pages were selected, their numbers will be filled in the corresponding field.
To move page(s), select required ones as described above. Then click them and drag to required position while holding left mouse button.

Moving pages can't be undone.