Scan a paper document to PDF.
This function allows to scan paper document to transform them into editable PDF files.
To create a new document from scanner, choose File > New > From Scanner in main menu or press Create a new document from scanner button

on the toolbar.
Choose one of the connected scanner is Scan dialogue window. Specify to which document (new or current) scanned pages must be added. It is required to specify position for inserted pages for current document.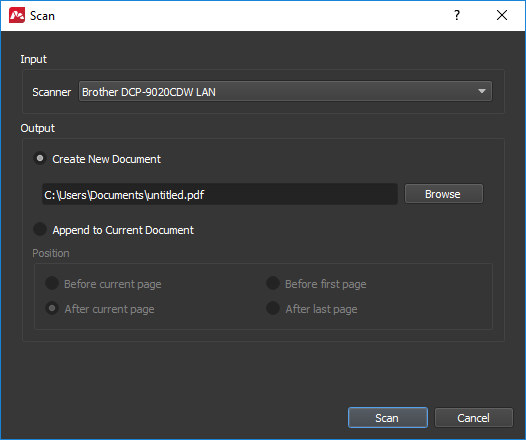 Scanner — choose one of the scanners, installed in the system.
Create New Document — check it and specify path and name to save scanned document or press Browse button to choose folder and file name.
Append to Current Document — set the flag if you want to save scanned pages in the current document.
Position — specify the position of inserted pages in the current document.

Before current page
After current page
Before first page
After last page.
After pressing Scan button you will see Scanning with WIA <Scanner title> dialog window, where you can choose kind of scanned image. Then press View button and select scanned zone. You can also set quality of the scanned image (Additional properties):
Brightness.
Contrast.
Resolution (DPI).
Image kind.

When scanning documents Master PDF Editor uses the driver of the scanner, installed in the system, so number of scanner settings may vary.
After setting scanner click Scan button, the progress bar in the next window will show the scanning progress. After it is finished, Master PDF Editor will display a window offering to continue scanning next document or finish scanning.
More like this:
Insert blank pages.
Insert pages from existing files.
Split and Merge PDF Files
Read more about Master PDF Editor