Document Navigation
To navigate the document choose View > (First Page, Last Page, Previous Page and Next Page) or press corresponding button on the keyboard: Home, End, PgUp, PgDown.
Toolbar contains means for moving to next or previous page. For fast transition to specfifc page specify its number in the according field on the toolbar.

Transition with Bookmarks
Bookmark is a kind of link, which allows to move to different document sections. Bookmarks are displayed as tree in the Navigation Area.
To use bookmarks to move to specific document section, press Bookmark tab on the Navigateion Panel in the left part of the workspace. Then choose required bookmark. You can expand its content with (+) icon or minimize with (-) icon.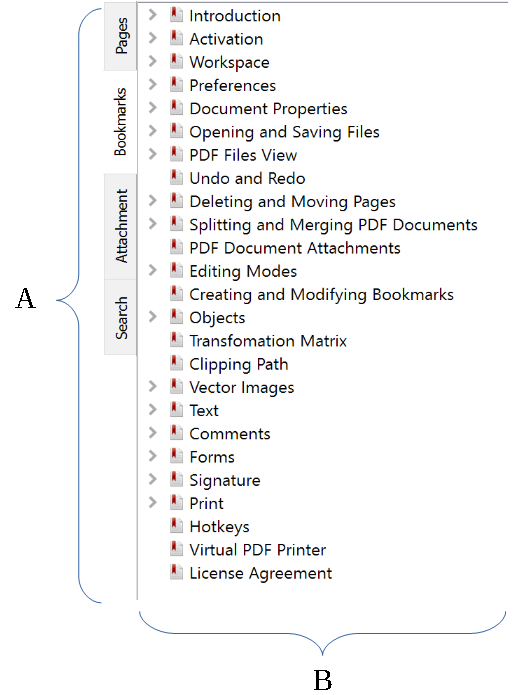 А — Navigation Area; B — Navigation Window.

With bookmarks you can not just go to required document section, but preform another action: open another file, a page, a web link, reset forms, show or hide forms, launch JavaScript.
Transition with Page Thumbnails
You can use page thumbnails to quickly move to the required page. Thumbnails are displayed at Pages tab in Navigation Area.
For better comfort and experience you can change thumbnails size and Navigation Area size. Right click a thumbnail and choose Enlarge Page Thumbnails or Reduce Page Thumbnails in the context menu, or use same commands in Main menu View tab.
If you remove, copy or move thumbnail, same action will be applied to the corresponding page.
Text Search
With Master PDF Editor you can search and highlight required information. Search is conducted in both text and hidden content: comments, bookmarks etc. Search results are displayed as a list. Words found in main document text are highlighted.
For search choose Search tab in Navigation Area (or use Ctrl+F hotkey). Set search criteria and insert text into

field, then press Enter.
Search can be conducted with following criteria:
Case Sensitive. Text will be searched with case matching. For example, if you are looking for word "text", words "Text" and "TEXT" won't be matched.
Include Comments. Search will be conducted not only in main document text, but in comments too.
You can move through the list with mouse or using keyboard arrows and Enter key to select search result.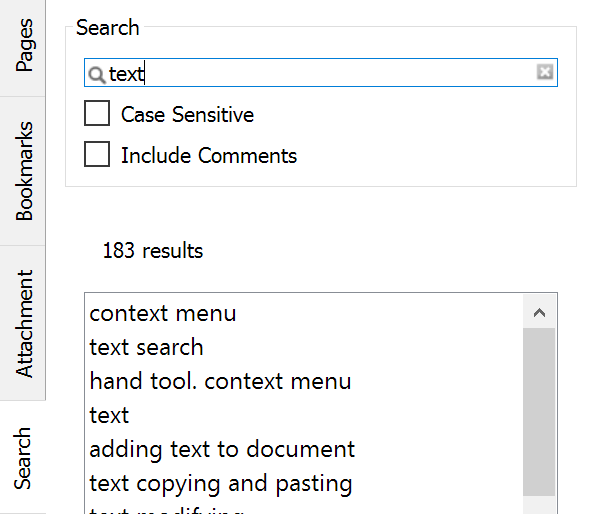 Click the cross icon to clear search field.

Window size can be modified with mouse by dragging window's right border to required position.
You can also use special field on toolbar for search. Set search criteria, insert text and press Enter key. Found words will be selected, you can move between them with Enter or F3 buttons.