Insert blank pages to PDF
Master PDF Editor enables you to insert blank pages into the document to add the necessary text, images, forms, various controls etc.
To add blank pages to the document, select in the main menu Document -> Insert blank pages .
In "Insert blank pages" dialogue window set page size and orientation, content size and number of pages in the document…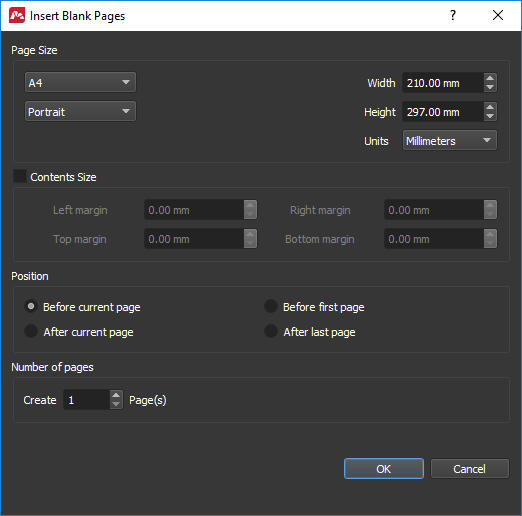 Position — choose one of pages insertion options: before page (page number specified), after page (page number specified), before first page, after first page.
Page Size — choose one of default formats in the list or set custom page size, which can be measured in points, inches or millimeters.
Contents Size — set size of margins to display document pages partially.
Number of pages — set the number for pages.
More like this:
A whole file or just some of its pages can also be added to the document. Paper document can be easily converted into editable PDF file and inserted into existing document with scanner.
Read more about Master PDF Editor