Creating and Modifying PDF Bookmarks
In Master PDF Editor you can create and edit bookmarks. Bookmarks are displayed as tree to Bookmarks tab in Navigation Area, they enable user to access specific document sections.
To create a bookmark, choose Hand Tool

, select text you want to link with bookmark, then right click the text and choose Add Bookmark item in context menu.
You can also open Bookmarks tab in Navigation Area.
To create a root level bookmark, right click free area of Bookmarks tab (none of the other bookmarks must be selected). Choose Add Bookmark item in the context menu.
Dialog window Bookmark Properties will pop up.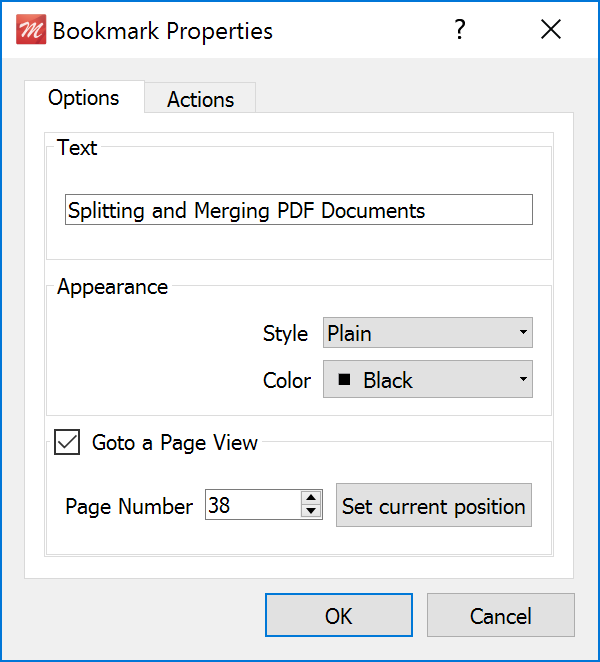 Text — specify name for created bookmark.
Appearance — set font attributes for the bookmark

Style — text style. Options: plain, italic, bold, italic & bold.
Color — specify text color.

Goto a Page View — if enabled, specify page where user will be redirected by created bookmark.

Page Number — specify page number for redirection. By default, set as number of page being viewed when creating bookmark.
Set current position — at this case saves not just a link to current page, but also its appearance on display including scale.
To create second level bookmark, right click root bookmark which should be set as parent, and choose Add Bookmark item in context menu.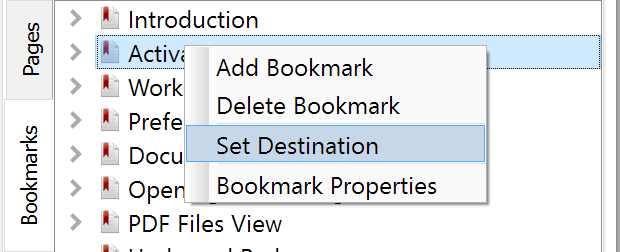 Context menu will also provide following options:
Remove Bookmark — removes selected bookmark.

Please note, bookmark removal cannot be undone.
Set Destination — set current page as destination page for selected bookmark.
Bookmark Properties — allows to edit bookmark properties.
Actions tab of the Bookmark Properties dialog window allows you to set event which will be fired on defined bookmark trigger. More detailed information can be seen at Actions tab.