Master PDF Editor
• Edit PDF text and images, Mark and annotate, Merge and split.
• JavaScript and Dynamic XFA form support.
• Validation Forms and Calculate Values.
• Adding a digital signature and Signing PDF Documents.
• Fast and simple PDF forms fill out.
• Changing font attributes (size, family, color, etc).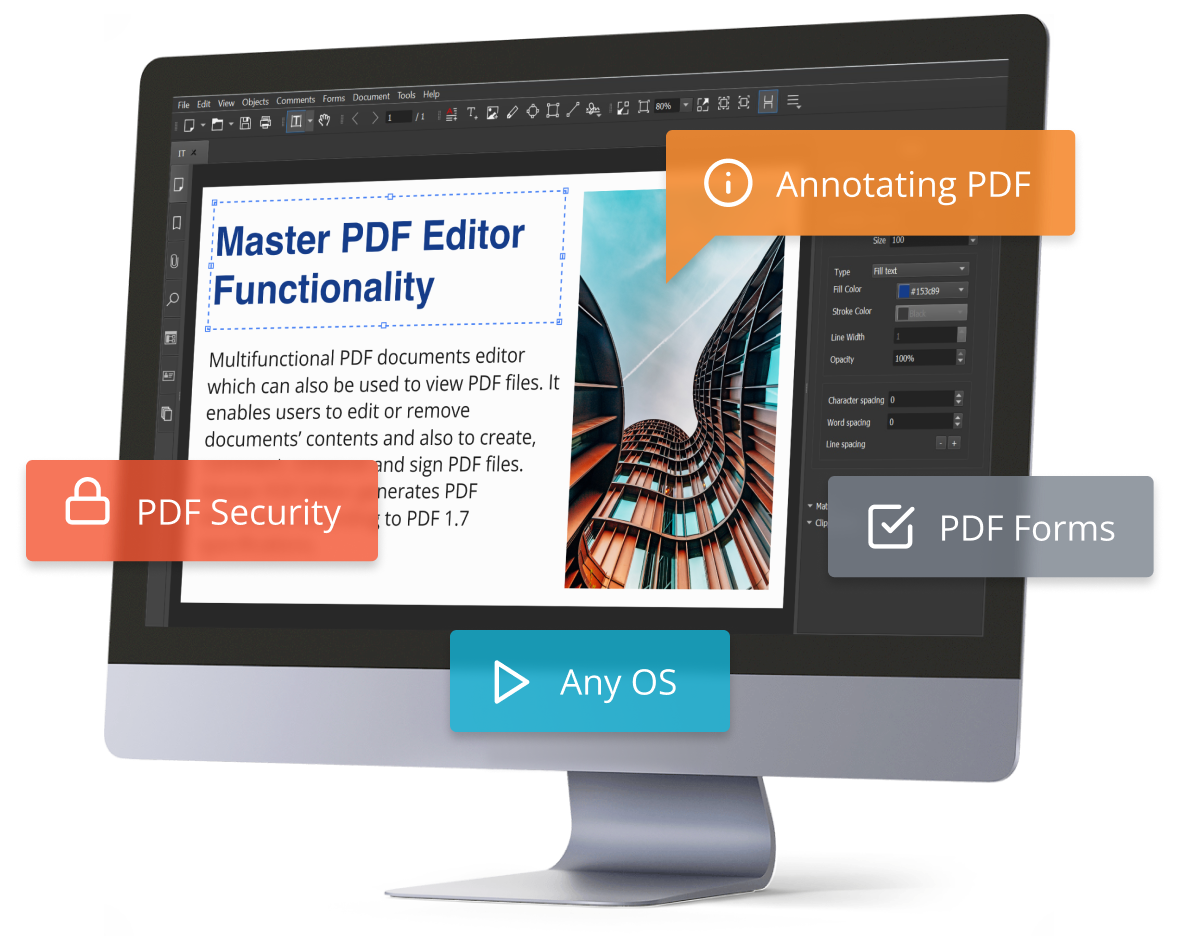 Our featured PDF software products
ImagePrinter Pro 6.3
ImagePrinter Pro it is a powerful virtual printer that allows you to convert any document, such as PDFs, MS Office documents, and web pages, into portable print-ready image files.
Supported output formats include PDF, BMP, PNG, GIF, JPEG, JPEG2000, TIFF, SWF, RTF, PDF, DjVu, XLS and HTML.

Master PDF Editor 5.9
Master PDF Editor allows you to create, edit, preview, encrypt, sign and print PDF documents. Includes advanced annotation tools that allow you to add virtual sticky notes and to indicate text to highlight, underline, and strike out without making changes to the actual PDF text.
Master PDF Editor for Linux
Commercial Master PDF Editor version for
Linux OS. This version has no limitations and can be installed and used on almost any modern Linux system. Master PDF Editor functionality is implemented in complete accordance with PDF specifications.
Master PDF Editor is a full solutions for work with PDF documents
 Edit PDF text
Enjoy effortless editing of texts in your PDF documents including formatting, styles, alignment, line spacing and more.
Comment PDF documents
Insert annotations, add comments, highlight or strikeout fragments of text easily. Digital sign your editions to ensure authenticity.
Work with PDF forms
Create and edit forms, fill in values or calculate them in real time using JavaScript when certain events occur.
Manipulate pages
Add, move or delete pages of PDF documents or even transfer pages to another document with a simple drag-n-drop operation.
Protect PDF documents
Password-protect viable PDF files to restrict unauthorized opening, encrypt the document with a certificate, or digital sign it to secure authorship.
Works on any OS
Master PDF Editor is a true cross-platform application working on Windows, MacOS and Linux. Start your work on one OS, continue on another.
Redact personal information
The built-in redacting capabilities make it easy to hide private or confidential information in the document, so the PDF could be published without disclosing too much.
Edit watermarks, header and footer
Quickly put your logotype as a watermark or into header and footer of each page with minimum editing. Drawn initials are supported too.