Export PDF to Image
Master PDF Editor allows to export PDF documents into image formats and then reopen them and use in another applications.
When saving PDF file in image format, each page is saved in separate file. The only exception is export to TIFF format. When exporting to TIFF, user can choose whether to save whole PDF file into one file or each page separately.
To export PDF file to image, choose File -> Export ->Pages to Images.
This will open a dialog window with following settings.
File Name. Specify name and path for document export destination file (you can use button).
Page Range. Choose pages to export.
Format. Choose compression format for output image (BMP, PNG, JPEG, TIFF).

MultiPage. All PDF document pages will be exported into single file if enabled (available only when exporting to TIFF).
Transparent. If enabled, exported pages will have transparent background (available only when exporting to PNG).

Size. Specify DPI.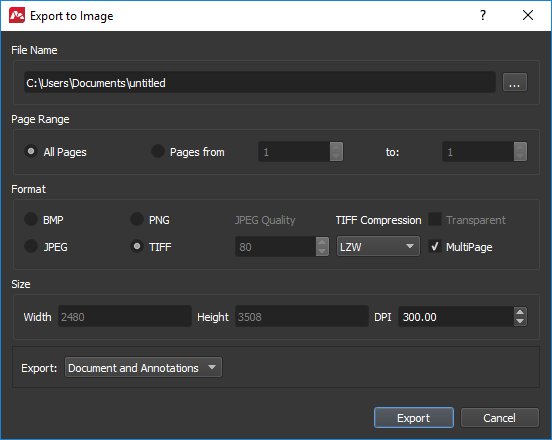 Press Export button, to convert PDF document to image, then click OK in the next window.
Export operation will be canceled, if Cancel button is pressed.
More like this:
Read more about Master PDF Editor