Autosave function
The function Autosave automatically saves your content at certain intervals. The menu allows you to enable this option only for open files, which is off by default after an installation.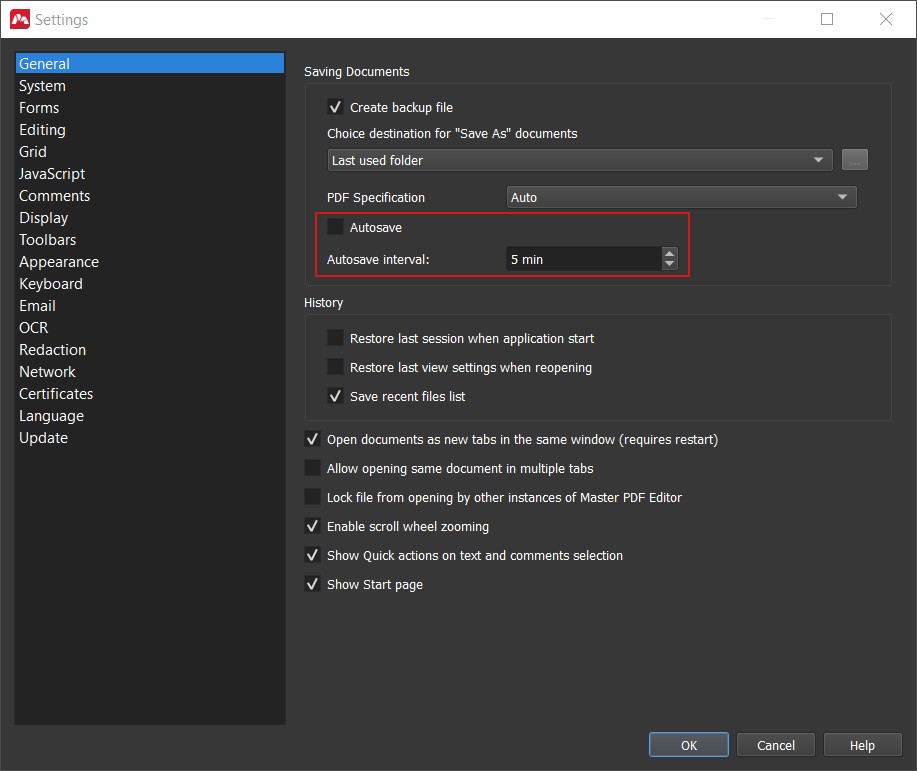 To enable this function, follow the instructions below:
Click the following tabs Tools > Settings;

Select the General tab from the panel on the left of the preferences dialog;

Check/uncheck the Autosave option to enable/disable the function and press OK;

Use the Autosave interval field to adjust the frequency of the saves.
There's the Autosave interval option within the Autosave section, which by default is set to 5 minutes, meaning that the Master PDF Editor will save your unsaved content every 5 minutes.
Please note that the value can be changed from 1 minute to 120 minutes depending on your preferences.
If you don't need to save continually your changes, you can turn the Autosave option off. Then, when it's needed, click Save (or press Ctrl+S) to save your changes to the file. (Or, you can also turn the Autosave switch back on to save your changes.)
Uncheck the box for the Autosave option if you need to disable the auto-saving option.
More like this: