Split and Merge PDF Files
While the document is being developed, its content may require drastic changes. It can be assembled into single document out of several sections. Some pages, paragraphs and sections may be modified, rewritten, moved or copied into separate document. With Master PDF Editor you can preform these tasks with great ease.
Split PDF Files
This function allows to split multipage document into several lesser documents or split it into separate pages.
To extract pages from the document choose Document > Extract pages… (Ctrl+Shift+E) menu item. Extract Pages dialog window will pop up.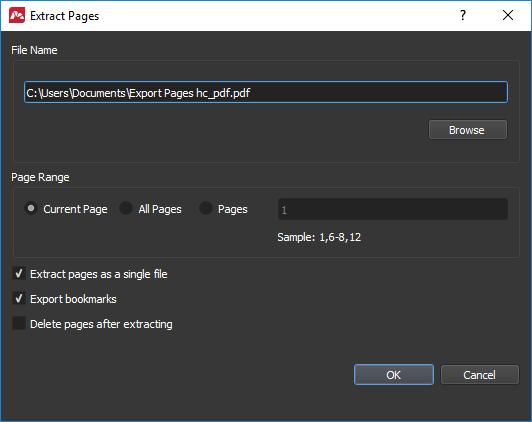 File name — choose file path and name to save extracted pages. Use Browse button to access file structure.

By default, extracted pages are put into new document named Export pages[source document name]_[page name].
Pages range — specify pages to extract: current page, all pages or a specific set of pages (with specified numbers or ranges).
Extract pages as a single file — if enabled, all pages will be extracted into single file. Disable to create separate PDF file for each extracted page.
Export bookmarks – if enabled, bookmarks of PDF document will be exported with pages.

PDF document owner may restrict pages extraction. Restrictions for current file may be viewed in menu File > Properties > Security tab.
Merge PDF Files
This function allows to merge and systematize multiple separate PDF documents in single file.
To insert pages into document choose Document > Insert Pages…(Ctrl+Shift+I) menu item. Insert Pages dialog window will pop up.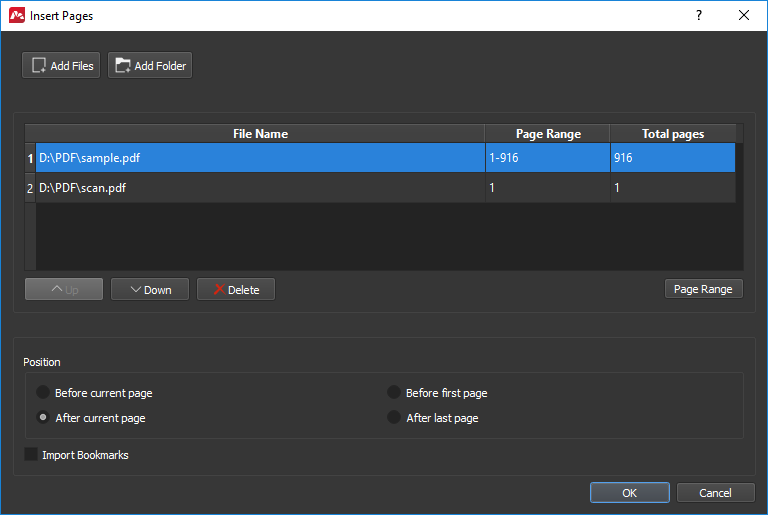 Add Files — add separate files;
Add Folder — add a folder with files;
Files information in the list:
File Name — file path and name;
Page Range — number and order of pages to be inserted into the document;
Total pages — total number of pages in the added file.