File Format
File Format tab provides the list of output file formats. All of them can be used as target format for file generation by ImagePrinter Pro, and each has its own additional settings.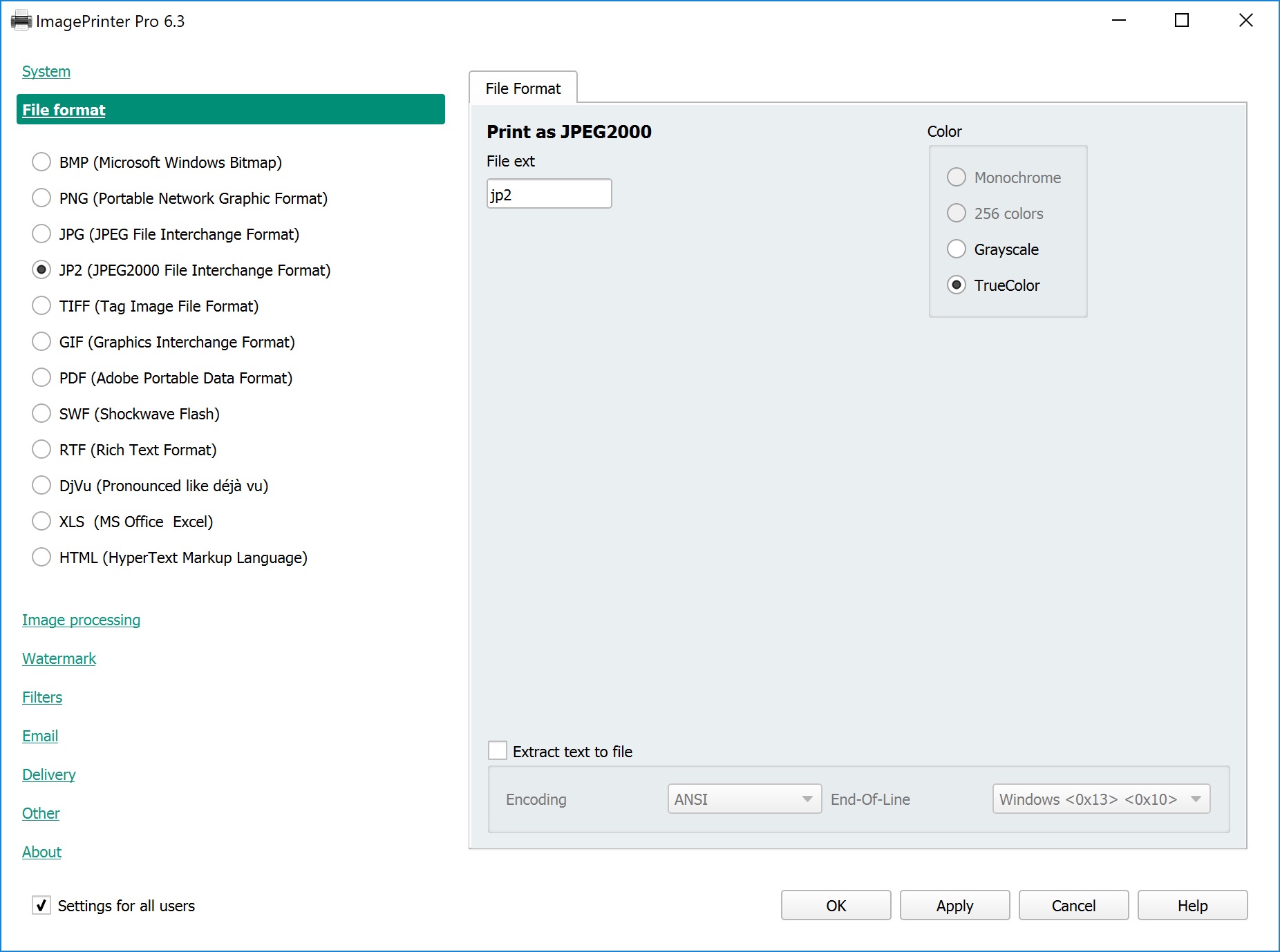 Radio buttons in the Color section allow to set color mode of the printed image: monochrome, 256 colors, grayscale, etc. Available modes depend on the chosen output format.
If Extract text to file is enabled, Encoding dropdown list allows to choose text encoding: ANSI or UTF-8, and End-Of-Line dropdown provides a selection for end of a line symbol: Windows-type, Unix-type or None (all the text will be put into one string).
File format
Options
Available color modes
BMP
Monochrome
256 colors
Grayscale
TrueColor — 24-bit color
PNG
Monochrome
256 colors
Grayscale
TrueColor — 24-bit color
JPG
Quality of image compression — output files quality in percents (100 for best quality).
Grayscale
TrueColor — 24-bit color
JPG2
Grayscale
TrueColor — 24-bit color
TIFF
Quality of image compression — output files quality in percents (100 for best quality).
Method of compression — choose one compression algorithm. Please note that most applications do not support viewing TIFF images with JPEG compression, so use this option only if really necessary.
Multipage – if checked, single multipage TIFF file will be printed.
Monochrome
256 colors
Grayscale
TrueColor — 24-bit color
GIF
Monochrome
256 colors
Grayscale
PDF
Quality of image compression — output files quality in percentage (100 for best quality).
Multipage – if checked, single multipage PDF file will be printed.
Add Text Layer — add text layer to output file. If disabled, PDF page will contain image data only.
PDF/A Compatible – create PDF document according to PDF/A standards.
Maximal file quality — print output file with maximal quality according to set DPI, usually 300 dots per inch.
Minimize file size — minimize output file size. If enabled output file will be printed with relatively low quality (90 dots per inch).
Advanced — open dialog with additional settings. See Advanced PDF Settings.
Grayscale
TrueColor — 24-bit color
SWF
 Quality of image compression — output files quality in percentage (100 for best quality).
Multipage— if checked, single multipage SWF file will be printed.
Add Text Layer — add text layer to output file. If disabled, PDF page will contain image data only.
Protect SWF — protect output file from unauthorized editing with password.
Animate — create animated pages in output SWF file.
Grayscale
TrueColor — 24-bit color
RTF
DjVu
Multipage — if checked, single multipage DjVu file will be printed.
Grayscale
TrueColor — 24-bit color
XLS
Multipage — if checked, document will be created on single sheet. Otherwise each page will be printed on separate sheet.
Cells min width – specify minimal width for table cells.
HTML
Quality of image compression — output files quality in percents (100 for best quality).
Multipage — if checked, single multipage HTML file will be printed.
Add Text Layer — add text layer to output file. If disabled, HTML page will contain image data only.
Grayscale
TrueColor — 24-bit color