How to View XPS Files on Mac OS X or Linux?
The XPS (XML Paper Specification) is a fixed-document standard originally developed by Microsoft. This XML-based format features device independence and resolution independence, and can store the document layout as well as the appearance of each page. 
Being designed especially for documents flow, XPS is much simpler and easier than PDF thanks to vector markup similar to XAML. Just as any modern document format should, XPS supports encrypting, net certificates and appearances besides that. XPS is also script-free, which makes it much safer format than PDF.
XPS file is a perfect final document format for publishing, archiving and transmitting. You can use XPS files to obtain print-ready versions of various documents with a sophisticated structure, color gradients, transparency, raster or vector graphics, and more. 
Originally it was possible to create and view XPS files on Microsoft platforms only. However, with our light, stable and easy-to-use Master PDF Editor you obtain full support for both XPS and PDF formats on all Microsoft, Mac OS X and Linux systems as well.
XPS Viewer for Mac OS X, Linux and Windows.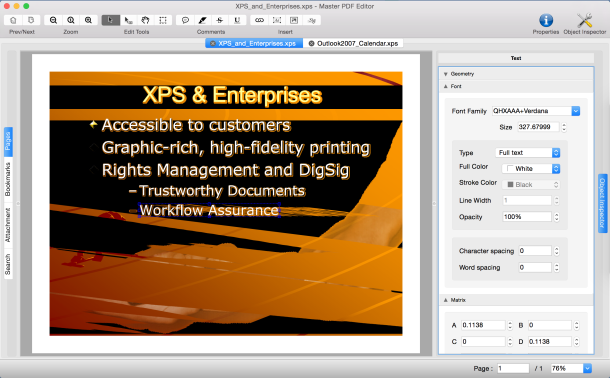 The Master PDF Editor is a small, fast XPS viewer which allows you to open, view, print any XPS file.
If you're in doubt how to deal with XPS files, then our Master PDF Editor software is just for you. 
This intuitive and convenient tool supports everything you need to work with both PDF and XPS formats.
Download Now
Read more about Master PDF Editor