Master PDF Editor for Linux
Edit PDF documents.
The best solution for working with PDF files in Linux.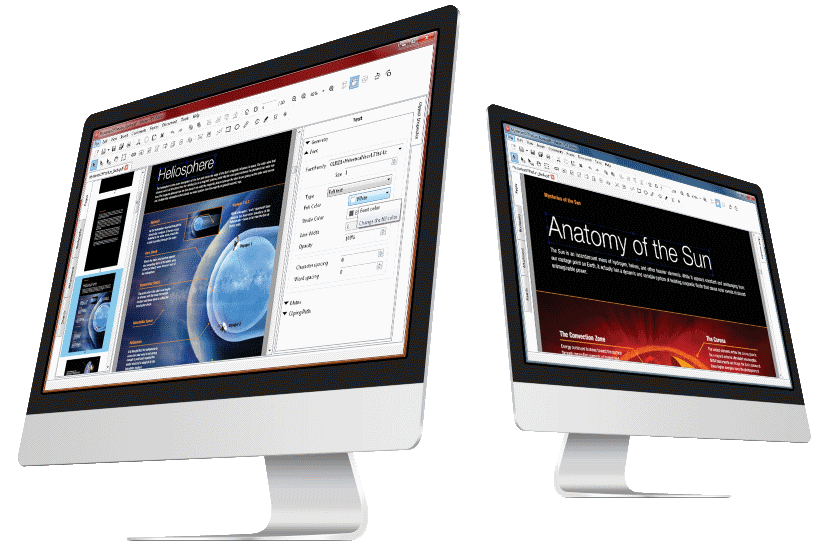 Commercial and Free versions of Master PDF Editor for Linux
Master PDF Editor is the optimal solution for editing PDF files in Linux. It enables you to create, edit, view, encrypt, sign and print interactive PDF documents.
PDF Editor.
In a PDF document, you can edit or add text with any formatting, insert images or edit any objects.

Annotating PDF.
Comment documents with stamps, notes, selection, text underlining or strikethrough and other tools

PDF forms.
Fill PDF forms in a fast and simple way. Add and edit PDF control elements like flags, buttons, lists, etc.
Download Master PDF Editor for Linux Now
How to start editing PDF files
Open a file in Master PDF Editor.
Click on the Edit Document tool in the toolbar or in the Tools menu.
Click the object (e.g. text or image) you want to modify.
Its properties will be shown in the Object Inspector.
You can delete move and resize objects.
Use the menu items Insert -> Text, Image, etc. and Forms -> Link, Text Field, Button, etc. to add new objects to the document.
Choose Document -> OCR, Header and Footer, Page layout, Watermark, etc. for advanced document editing.
What is new in Master PDF Editor 4
The free version can be used only for non-commercial purposes, e.g. for educational use or at home. Some functions are locked in the free version. In order to use the application for commercial purposes, and with its full functionality you are required to purchase a license.
Registration for the free version is not required.
Functionality comparison of the free and commercial versions:
| Function | Free version | Commercial version |
| --- | --- | --- |
| Create new PDF document from scanner or existing file(s) | + | + |
| Edit PDF text and images | + | + |
| Add and/or edit bookmarks in PDF files | + | + |
| Comment and annotate PDF documents | + | + |
| Split and merge PDF documents | + | + |
| Create and fill PDF forms | + | + |
| Optimize PDFs | - | + |
| "Paste to Multiple Pages" function | - | + |
| Add/Edit Document Actions | - | + |
| Manage Document JavaScript | - | + |
| Page Properties options | - | + |
| Sign PDF document with digital signature | - | + |
| Add Headers and Footers to PDFs | - | + |
| Add Watermarks to PDFs | - | + |
| Add Backgrounds to PDFs | - | + |
| 256 bit AES encryption | - | + |
Full Master PDF Editor integration with Linux.
Master PDF Editor has been developed from the ground up with Linux system features in mind. It is fully integrated with the Linux system with no need for any special packages.