PDF Maker
Looking a software to create PDF documents?
As you probably know, printing a pdf document "as is" is not enough in most cases. 
There are always some things that users want to add, delete, change, or comment in their PDFs after sending them to a virtual printer.
This results in a constant need for software that support all these features. 
To address user expectations, we've introduced our best-of-breed – Master PDF Editor. 
With Master PDF Editor you can easily print any documents from various applications that support printing (e.g. Microsoft Word and Excel, or OpenOffice), as well as add bookmarks and hyperlinks in PDFs. 
Once installed on your system, Master PDF Editor can serve as a sort of a virtual printer 
that implements the print to a PDF functionality. 
Simply choose the Master PDF Editor option in the standard Print dialog (see below):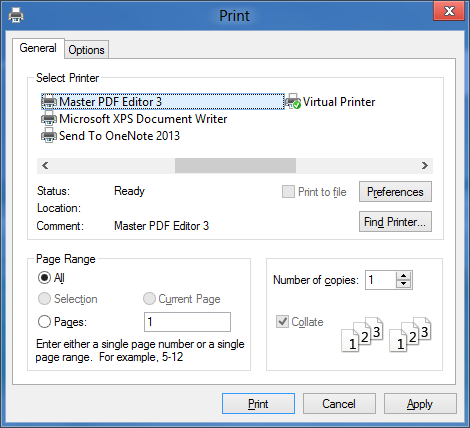 Change what you want in the window that opens, 
and then choose File>Save as PDF Document from the menu. 
And, of course, there are plenty of editing capabilities available, 
which allow you create, edit, preview, encrypt, sign, and print XPS and interactive PDF documents, 
import/export pages into JPG, TIFF, PNG, or BMP formats, 
and also add various controls such as buttons, text fields, checkboxes, etc. with corresponding event handlers for typical user actions.
With all these functions tightly packed together, Master PDF Editor is one of the most powerful pdf makers on the market.
Download Now
Read more about Master PDF Editor