Export pages from PDF.
This function allows to split multipage document into several lesser documents or split it into separate pages.
To extract pages from the document choose Document > Extract pages… (Ctrl+Shift+E) menu item. Extract Pages dialog window will pop up.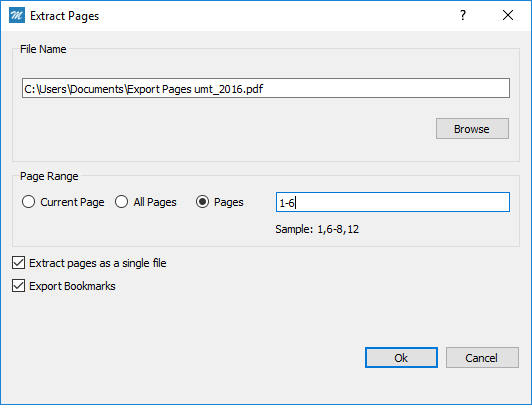 File name — choose file path and name to save extracted pages. Use Browse button to access file structure.
Pages range — specify pages to extract: current page, all pages or a specific set of pages (with specified numbers or ranges).
Extract pages as a single file — if enabled, all pages will be extracted into single file. Disable to create separate PDF file for each extracted page.
Export bookmarks – if enabled, bookmarks of PDF document will be exported with pages.

By default, extracted pages are put into new document named Export pages[source document name]_[page name].

PDF document owner may restrict pages extraction. Restrictions for current file may be viewed in menu File > Properties > Security tab.